We were eagerly anticipating our second trip to Killarney Provincial Park, but this time exploring its unspoiled eastern and northeastern wilderness sectors, hiking to the top of Silver Peak of the renowned La Cloche Mountain Range, and a visit to the Village of Killarney that would include a trek along the scenic shores of Georgian Bay.

Mon. Sept 12th.
Our adventure began at 5 am when Norm, driving to the west side of Ottawa to pick up Wayne, caught two young doe in the glare of the car's headlights just as he was approaching Wayne's residence. Bewildered and not knowing where to run, they stood perfectly still on the lawn as he drove slowly by them. This was taken as an omen for an exciting week ahead.


Norm standing in front of a Montreal Canoe - click to enlarge
We decided to stop at the Voyageur Heritage Museum in Samuel de Champlain Provincial Park near Mattawa, Ontario to view the huge Montreal canoe and other vintage canoes on display; a feat our group has failed to accomplish on previous trips as the museum was always closed. The same held true this day – the premise would not be open for another two hours. As we peered into the front door window, we could see someone inside next to the big canoe. First instinct was to rap on the window to get his attention, but there was no response. Disappointed, we headed back to our vehicle, only to have the museum door open and a gracious custodian beckon us to come inside for a tour. We shared a good laugh when we realized the person seen next to the canoe was in fact a prop used in the display.
The Montreal birch bark canoe in the museum was a replica of the giant fur trade canoes that plied the water highway between Montreal and Lake Superior three centuries ago. In May, loaded with trade goods these vessels ascended the Ottawa and Mattawa Rivers and down the French River in brigades of nearly 50 strong. In late summer, they returned from Fort William on Lake Superior, loaded mainly with beaver pelts. This Montreal canoe or "canot de maitre" measured 11.8 m (38'10") and weighed 370 kg (814 lbs). With a crew of 10 or more, a Montreal canoe carried 3 tonnes of goods and another tonne of people and provisions, and was portaged on the shoulders of 4-8 voyageurs. Spruce gum mixed with animal fat sealed the seams while long slender roots of black spruce, peeled and split, were used to sew the bark. The French Canadian, Irish and Scottish voyageurs that paddled and portaged these freight canoes were renowned for their skill, endurance and cheerful dispositions.
Anyone with an opportunity to visit the museum should do so – you will be in for an historical treat.
We arrived at the George Lake Campgrounds registration office at 12:40 pm and the western view of the La Cloche Mountain range across from campground site 12 brought back fond memories of our last trip in 2001.
As planned, we drove 8 kms to tour the Village of Killarney, a small fishing port situated along the shore of Georgian Bay that dates back to 1820. First and foremost, we located the renown Herbert's Fish and Chip wagon – four pieces of freshly filleted fish caught that morning and a pile of steaming french fries, doused with salt and vinegar, all for the price of $10.00. The picnic table under the wharf canopy provided a maritime ambience with a quaint harbour, docks and plenty of seagulls. What more could one ask for!
We hiked along a trail on the outskirts of the village, what we believed would be a short distance to the historic East Lighthouse on Red Rock Point – we soon realized that the trek was much further away than first calculated. We were drowning in sweat as the temperature was in the mid-30s with high humidity. We returned to the wharf to learn that a sow bear and her two cubs had been spotted along the trail we had just hiked, resulting in the closure of the village school. There was an easier way to get to the lighthouse – a drive along Ontario Street to the site parking lot and a short jaunt along the path. Once there, it was like a visit to Peggy's Cove along the Atlantic coast of Nova Scotia. In a narrow inlet next to the lighthouse, we dipped into the frigid waters of beautiful Georgian Bay - a refreshing end to a fantastic outing to Killarney Village.
| | |
| --- | --- |
| | |
| Georgian Bay Shoreline | Lighthouse Lake Cove |
In preparation for the following day's departure, the contents of our backpacks were emptied on the picnic table and thoroughly screened, eliminating all but the most necessary items. As we relaxed around our campfire, we had a surprise visit from a fellow canoeing friend, Kris Puhvel, Marketing and Membership Manager for the Friends of Killarney Park (http://www.friendsofkillarneypark.ca/). Kris explained the role he and his dedicated volunteer group, working in coordination with the Ministry staff, undertake to make everyone's venture into the park safe and enjoyable. We are truly indebted to their dedication and efforts. We traded a few canoeing stories and promised to partake in a future venture together, perhaps next year.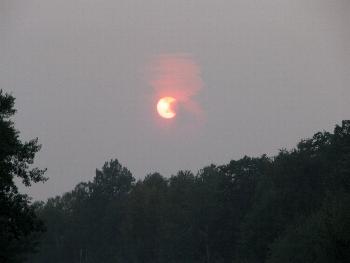 George Lake Sunset
Copyright by Norm Hooper, February, 2006 http://canoestories.com/killarney/