August 2006 Six Day BWCA Solo Canoe Trip
Trip Leader: Chuck Ryan
Dates: Monday, August 28, 2006 through Saturday, September 2, 2006
Trip Name: Big Water to No Water and Portages in Between (Route is similar to "The Crooked Border Route in Robert Beymerís 1995 edition of Volume 1: The Western Region of the Boundary Waters Canoe Area)
Trip Course: Mudro Lake, Fourtown Lake, Boot Lake, Fairy Lake, Gun Lake, Gull Lake, Mudhole Lake, Thunder Lake, Beartrap Lake, Beartrap River, Sunday Lake, Beartrap River, Iron Lake, Bottle Lake, Lac La Croix, Bottle Lake, Iron Lake, Crooked Lake, Basswood Lake, Horse River, Horse Lake, Tin Can Mike Lake, Sandpit Lake and back to Mudro Lake
Total Miles: 58.5
Canoe: We-no-nah Prism
Paddles: Black Bart Carbon fiber bent shaft (one of first racing paddles now a beater for low water and rocks and the second paddle was a ZRE carbon fiber bent shaft
INTRODUCTION
I hadnít been to the BWCA since August 1999 the same year I got into marathon canoe racing. I stopped canoe racing in 2004. In February 2004 I had elbow surgery and in the fall I got Ehrlichiosis (similar to Lyme disease). Those werenít the reasons I stopped racing (the elbow is fine) but I got interested in log building. I took two log building courses in 2005 from Ron Brodigan (Great Lakes School of Log Building) who I met back in 1980 when I worked for the US Forest Service in Isabella Minnesota. I knew then that someday I wanted to build a log home. It only took me 25 years to begin that process.
I still get out and paddle in my C1 J-193 Jensen Design racing canoe build by Everett Crozier several times a week on the Run River or Mississippi River depending on the time of year, but I missed the canoeing in the BWCA.
Most of my trips are solo as Iíve learned that to many times most everyone is interested in going but when it gets right down to it they back out at the last minute. I did asked a buddy of mine who Iíve done a couple trips with in the past that I was planning on going this year. He told me he hadnít been in the BWCA for a couple years and if he went he should go with his wife.
I checked the Superior National Forest website about a month ago for availability on some entry points off the Echo trail as Iíve never canoed from any of them. Iíve been at entry points off the Fernberg trail, Isabella, Sawbill and Gunflint trails and it was also about the time of the Cavity Lake fire.
I decided to go out of Mudro Lake and I had originally thought I would do a more aggressive route by taking Sterling Creek going west from the Beartrap River near Sunday Lake and go to Stuart Lake then eventually going to Lac La Croix. I was planning an eight day trip and with the water levels way down I thought I better not try this extra loop so then I thought I would do a counter clockwise loop around Coleman Island in Lac La Croix. I decided against that because of too much big water, so I settled on this route.
I packed my gear and had packed enough food for eights days before changing my mind on the exact route. I gave my itinerary to my father and explained I might not be out until day seven depending on if I ran into some strong winds.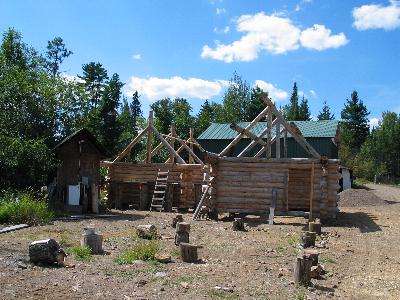 On Sunday, 8-27-06 I began my drive from the Twin Cities area to the north. I hadnít been to the Duluth Pack Store in Duluth for some time so I stopped in for a whole 10 minutes. My next stop was to Ron Brodiganís place near Isabella. Ron wasnít there so I spoke to a guy who was renting one of Ronís log cabins for the week-end with his wife. They were packing up to go back to Eagan Minnesota.
I drove to Ely and stopped in at Piragisís. I bought my Minnesota II and a lot of other gear/ stuff from Piragisís over the years. This year I bought a couple books. I needed a book to read a night. The book I took to read was Rob Kesselringís, Daughter Father Canoe. One time I was thinking (hoping) of doing the Snowdrift River. I though it would be lighter reading that Max Finkelsteinís , Canoeing a Continent On the Trail of Alexander Mackenzie, which I also bought but Rob Kesselringís book had slightly larger print to read in the dark.
In 1997 a buddy and I were in each of our solo canoes doing an eight day Quetico trip when we met a couple and their two daughters from Florida near Kahshahpiwi Lake. A few days later they met Max Finkelstein on Basswood Lake near Prairie Portage. Max paddled up to their campsite at about 2030 hours and asked them if they would care if he camped at an adjacent site on the island. This couple invited Max to dinner and Max cooked bannock for them over the fire.
I went to the US Forest Service to get my permit. I also got a Primitive Management Area (PMA) permit for the Sundial area. I wanted the option of camping on Sunday Lake if things went well the first day.
I camped at Fenske Campground and began sorting and packing for the trip in the morning. It had been a while since I did this and I was a little rusty. I began taking stuff that I was planning to take and just put it in the suburban. I realized I was just taking more stuff than I really needed. Itís not like I was going to take a trip in a motor boat where weight is really no object. I had to remember there were going to be several portages. Iím not getting any younger and all those injuries when I was younger are coming back to haunt me. Let me say Iím not moving through the wilderness like I use to, Iíve lost a step or two. While I was doing all this sorting I kept my doors of my 2002 Chevrolet Suburban open.
Everything was now ready, the tent was set up and it was getting dark. It was around 2030 hours so I decided to go in the tent and read by flashlight hanging from the top of the tent for over an hour.
I knew Chainsaw Sisters wasnít going to be open until 0800 hours in the morning. I knew I would be up before daylight.
DAY ONE
I woke up at 0538 hours. I heard the sound of a loon in the distance. I could also hear some traffic on the Echo trail. I finally pulled myself out of the tent at 0611 hours. Chainsaw Sisterís isnít too far from Fenske Campground. I had plenty of time to eat and get there at 0800 hrs.
I was ready to leave and got in my Suburban and it wouldnít start. I canít believe it my battery was dead. What a way to start a canoe trip. I must need a new battery because although I had my doors open yesterday that shouldnít have drained the battery.
I went to the campground host and spoke to the lady who was just coming out of her trailer. She didnít see me and I startled her when I spoke. I explained my situation to her. She asked me my campsite and she would send her husband down.
Her husband came down to my campsite and we spoke a bit. I told him where I was from and where I worked. He gave me the name of someone and I told him he was a co-worker. He told me that this guyís father was coming to the campground the next week-end (Labor Day week-end).
I got to Chainsaw Sisterís parking lot a little past 0900 hours. There were several cars parked in the parking lot and I saw three dogs. One or two of them began barking. I went up and paid my $18 dollars. I was coming back to my vehicle reading the slip of paper Iím supposed to put on the dash when I felt one of the dogs biting my right calf. Luckily, I had some Schnee leather top boots and the bites didnít hurt but I believe it would have been different if I wasnít wearing the boots. I yelled at the dog and pulled my leg back to me. Then to add insult I got back to my Suburban and I saw where one of the dogs peed on my right front tire.
I prepared my canoe and got my stuff together. I spoke to a group of four guys briefly that were also getting prepared. It looked like they were going to do some fishing. I took my fishing pole for a couple of my earlier trips but I leave it at home now. I on the move every day so usually the last thing I want to do at the end of the day is fish. Those of you who have done solo trips know that after you have paddled all day and get to a campsite you look around to see who is going to set up the tent, cook the food, purify the water, prepare the camp, hang the food if one can find a suitable tree, and then it hits you, itís you. There is no one else and by the end of the day Iím pretty tired and the last thing I want to do is fish. I used to do a lot of fishing when I was younger and now the only fishing I do is during my annual Florida trip.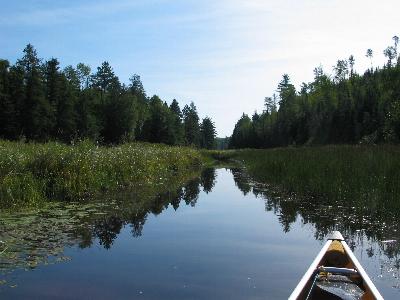 I do take a lot of pictures. I find that I tend to take many more pictures when Iím fresh and as the day goes by the pictures become less and then the pictures pick up again at the campsite.
Well, at 0926 hours the first trip across the first portage. The first 30 rod portage is extended because of the shallow water. It was beginning to get warm. What a couple trips across a portage will do! The outside temperature on the Suburban thermometer was reading 60 degrees when I was driving to Chainsaw Sisters.
I reached the main portion of Mudro Lake and started heading NW to the first of three portages to go into Fourtown. I saw movement at the first portage but it disappeared. Looked like a human. This portage was very rocky and of course it too was lengthen due to the low water. Maybe I should say now that the water levels on this whole trip were very, very low.
I was getting into my canoe for the short little paddle went I saw two guys at the beginning of the 140 rod portage. I stopped briefly and they told me they were from Pennsylvania and they were going to fish in Fourtown. They said I could go before them as they wanted to see how a pro did it. I told them I didnít know about that but thanks for letting me go first. I was not in as good of shape as compared to when I was racing or when I did other BWCA trips so this portaged seem long. There were three or four ups and downs and it was following a ridge. My food pack sure seemed heavy. I crossed the next short rocky portage and it was the last I saw of those guys
I reached the open area of Fourtown and I remember a slight breeze. I saw a group of guys in two canoes heading out. They told me the Horse River was shallow. They told me in addition to the normal three portages that there were four more and numerous pull-overs. That sure didnít sound good. Well, I didnít have to worry about that now but it got me to thinking what the Beartrap River was going to be like. I called both the LaCroix and Kawishiwi Ranger districts and a couple outfitters earlier and no one could tell me what the river was like due to the low water. The Forest Service told me no one had been on the River lately as most of the personnel had been tied up with the Cavity Lake fire.
The outfitters told me they hadnít had any customers on the Beartrap River lately.
I saw another couple as I began my turn to go west toward the portage to Boot Lake. The landing at the portage was quite big. It looked like it was best to get out where I did. I took my food pack and canoe on the first trip. I took a well used portage trail to the other side. I look and I see a lot of rocks, some water but I see open water where I need to go further past the point where I was standing. I took what looked like a faint trail a little further but then I couldnít go any further. I decided to put down my stuff and go back for my larger pack. I though I would have to paddle over all my stuff across this small piece of water to the next short portage to get to the open water water.
I walked back to the beginning of the portage and I saw a couple sitting in a canoe ready to paddle east into Fourtown. I asked them where they came from? What I couldnít see where I got out was that there was another well used portage trail to the south and this trail would take me to the open water. They asked me if that was me that made the noise with my canoe. I told them it was me. When I put the canoe down I couldnít get to the small water and I was perched on top of a sharp rock The stern of the canoe hit the rocks. It sure wasnít the first time nor will it be the last.
I really donít know what I was thinking but for me I was doing the opposite of what I normally do on the portages. I normally take my larger Granite Gear pack, water bottles and Pelican case with camera gear across the portage first. The second trip I take my smaller backpack with food and the canoe across on the second trip. It depends what the water level is at the portage, I either walk into the water and put the canoe down or put the canoe down from shore. Either way the stern of the canoe hits water first not rocks.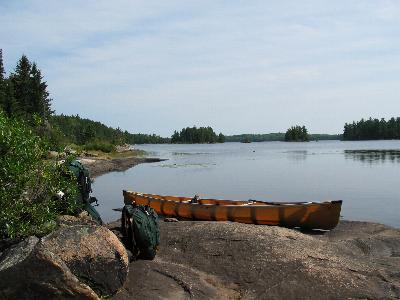 I walked my larger pack across the south trail to the open water of Boot Lake. I made my way to my canoe, put it in the water and paddled to the short portage. It was now 1230 hours so I decided to have lunch. I took a half hour lunch. I ordered a fresh loaf of Sourdough bread from the Cub Foods bakery just before the trip to make my peanut butter sandwiches. I had some gorp and a fig Newton or two. The bread is bulky but very tasty. Other times Iíve taken bagels or pita bread.
I remember there were a couple campsites taken on Boot Lake. I donít really remember the 15 rod portage into Fairy Lake, but I believe it was flat. I saw no one on Fairy Lake and there are two campsites on it. I took the 50 rod portage out of Fairy to Gun Lake. I have nothing in my notes about Gun Lake, but I know I went through there. There was a 30 rod portage between Gun and Gull Lake.
I spoke to some guys who were fishing on Gull Lake. I believe they were camped on the east site on the north shore of Gull. I asked them if any canoeist had came by today. The one guy told me earlier today that a couple came by in one canoe and a guy like me using a kayak paddle came by in another canoe. One of them was going to camp at Thunder and the other on Beartrap Lake.
I did the two portages of 35 and 55 rods in and out of Mudhole Lake. I saw the south campsite on Thunder Lake appeared to be vacant. I veered slightly east of north to go around a point that had a campsite on it. I could see that it was taken by two people. I went through the narrows of Thunder and approached the 5 rod portage to Beartrap Lake. It looked like both campsites appeared to be open in the north bay of Thunder Lake.
While I had been paddling since about Gull Lake I had been thinking on what my options were for the rest of the day as I now was getting somewhat tired. I had the permit to camp on Sunday Lake in the Sundial PMA. This is a low maintenance area and what would it be like for portages? What would the water levels be on the Beartrap River? Once I got there what would I have to do if the only campsite ( I was aware of only one even though you could make youíre your own) was taken even though I had a permit and I should be the only one in this area.
Another option was to camp at the site on Beartrap Lake but the guy on Gull Lake said that someone was going to camp there. I figured that it was probably now the solo canoeist and maybe, just maybe he continued up to Iron Lake. I didnít know what time this person passed on Gull Lake.
Well, I have to go check on the campsite at Beartrap Lake because I would feel bad for not checking and still in the back of my mind is to forge on to Sunday Lake. I had to cross a 5 rod portage to get to Beartrap Lake and of course the campsite is not in view of the portage. The wind is starting to pick up from the northeast.
Iím standing in the water because itís too rocky to pull the canoe up to shore and get my gear out. Iím taking my big pack out of the back of my canoe. The canoe moves away from me but Iím holding on to the pack and need to walk several steps in the water to set the pack on shore. Of course, now I go retrieve the canoe and I take a couple steps and the water goes over the tops of both boots. Now I have both boots full of water and its there to stay because I wear Sealskinz over my socks inside my boots. I feel my feet swishing around inside my boots. Remember, in the back of my mind I have Sunday Lake on my mind and now I have the additional problem of heavy, wet feet.
I get my gear put in the canoe and head SW toward the campsite. I get by an island when I finally can see that the site is taken. I look at my map and it shows only a 200 rod portage to Sunday Lake. I normally go 2 miles and hour in travels through the BWCA with some portages. I go about 20 minutes per mile or 3 miles an hour in open water. I check the map and I figure thatís possible to be a Sunday Lake in 2 to 2 Ĺ hours under ideal situations. What would this minimal maintenance portage look like? What I didnít realize at the time was that none of the regular portages are marked on the map I have.
I decided to get to Sunday Lake would just take to much effort on my part since I was already tired from this leisurely trip (I also still have water in my boots). Well, back to the rugged 5 rod portage. There are lots of rocks on either side of the portage. I checked out the campsite on Thunder Lake just north of the portage. I then paddled to the campsite to the northeast. I didnít get out of my canoe but this campsite didnít appear to be used very much. I liked the one just north of the portage better so I paddled back the quarter mile to it.
I came back to this campsite at 1640 hours. I fixed supper, got water, took pictures, hung the food pack and eventually prepared the camp for the night. There were a couple loons on the lake but they never made a sound. I was preparing to read at night but I couldnít find my second flashlight that I used the night before to read in the tent. (I later located this flashlight in my Suburban where I had left it, huh.)
On to Iron Lake tomorrow!
I didnít write the campsite number that was on latrine.
Total Time: 7 hrs 14 minutes
Total Miles: 12.5 miles
DAY 2
I was hoping to be on the water at 0830 hours but didnít leave until 0911 hrs. Less than one minute later I was at the 5 rod portage going into Beartrap. The wind was blowing from the NE all night long. I got up in the morning and it was a slight NE breeze that stated to get stronger as I left the campsite. I got onto Beartrap Lake and the north side of the lake was calm.
The campsite was still occupied on Beartrap Lake. I had a feeling that there probably wasnít going to be any one following me today. I didnít know if anyone would be coming from the north or not.
I got to the 200 rod portage and the first thing I see is a large tree over the beginning of the portage. Well, actually it was not that bad I could get through. There were numerous trees across the portage. Most of them all I had to do were to step over them. There were two large trees slightly higher than chest level. I had to put down the canoe and drag it to the other side. You should have seen me carrying the large pack when I came to these trees. I was never very flexible to do the limbo but that would probably been the best way. My knees arenít very flexible anymore either. I tried to find the largest area between the ground and tree as I was scraping the top of my head to try and avoid snapping to the ground on my butt.
The next challenge was four large trees lower to the ground across the trail next to each other. I called them the hurdles. I was not very good at doing the hurdle in track, either. My method with both canoe and the large pack was to get one leg across the tree at all cost, sit, swing (use that word loosely) get the other leg across, get my balance and off I would go.
It took me 26 minutes to do the portage with my canoe and 23 minutes with the pack. Actually this portage wasnít too bad. I have been on much shorter portages worst than this one. I could see that areas of this portage could be pretty muddy during certain times of the season. I saw some mud on the trail and it didnít appear that anyone had used this portage recently.
What I like to see when Iím coming to the end of a long portage is light coming through the foliage which usually means the portage is nearly done. I have been fooled by that but better yet is to see the sign of water through the foliage.

I use McKenzie Maps and I have several from 1997. I donít know if the newer ones show any portages on the Beartrap Lake to Sunday Lake or not but this map doesnít. I read after the fact that there are two normal portages that are described. I did at least two portages if not three. There were several beaver dams to pull over and pullovers over rocks. It would have been a mistake to try to get to Sunday Lake yesterday.

The first portage I came to was about 60 rods or so. I came to a spot where there was some open water so I put down my canoe and continued with my food pack to the correct spot to put in. This portage is described in Beymerís book. OK, Iím going to say it again. The water levels were very low.
It took me a total of 1 hour and 14 minutes to do the 200 rods portage and another 1 hour 44 minutes to get down the Beartrap River to Sunday Lake.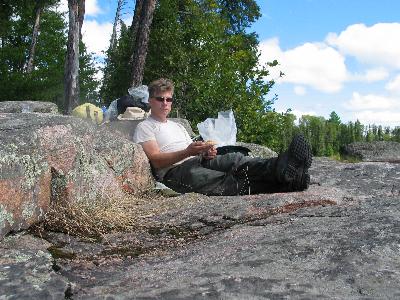 I had lunch at 1245 hrs at a campsite on Sunday Lake. This is a primitive site but it has been used in the past. Itís on the north shore a little ways east of the portage going out of Sunday Lake. This is an easy 19 rod portage going out of Sunday Lake. There were a couple more short portages on the Beartrap River.
I got to the area where Sterling Creek goes off to the west from the Beartrap and it appeared from the east side of the Beartrap that it was all tall grass. There is a widening of the area/river where the Sterling takes off and it appeared to be all grass. I didnít go over to scout for any actual body of water in the creek if there was any as it would have taken to much time and effort since I wasnít going that way. Let me say it didnít appear that anyone had been up or down the Sterling Creek for some time.
The final portage to Peterson Bay of Iron Lake was 110 rods. The good thing about a 110 rod portage is that it feels short after doing a 200 rod portage earlier in the day. I got to the end of the portage at about 1530 hours and Iíve never seen a put-in like it. It drops 10 to 15 feet to the water at a 45 degree angle. There were only a couple feet to maneuver the canoe and gear at the water. The rock walls were straight up and down just to my left and rock I came down its face was a sheer face. I put everything down and briefly scouted the area. It appeared there was another trail on the other side to put in a canoe, but it meant that would risk possibly getting hurt getting all my gear to the spot and it really didnít look any better where I was already. I decided just to put in where I was. I felt like a goat walking down this incline but got the canoe in the water. I put lines on both the bow and stern for either lining or tracking a canoe. I used them in this spot to maneuver the canoe around to get all my gear in the canoe. Oh, you canít step in the water at the end of this 45 degree angle because it was one of the few deep spots. Peterson Bay was very swallow. I did several pullovers (nice word for scraping) the bottom of the canoe over rocks.
I came into the main body of Iron Lake and I saw two to three canoes. I also saw the campsite on an island to the north of the opening of Peterson Bay was taken. I decided to head NE to check out the campsites as I went. I saw a site in a cove directly south of the west campsite on Three Island and it was taken as well as the Three Island site. I read somewhere that the west campsite on Three Island was very nice. Probably explains why it was taken. I was tired by this point and I had three more sites to check out before having to make another major decision to go back further west two to three miles to check those campsites or take the 139 rod portage around Curtain Falls into Crooked Lake. I didnít like either option at this point. I paddled between the south shore of Three Island and the north shore of another island and peninsula. It was shallow and lots of large rocks just under the surface of the water. I scraped the bottom of the canoe a few more times. This reminds me when I brought my brand new We-no-nah Prism to the BWCA for the first time in 1995 and every time I would scrap a rock I would cringe. Now as long as water doesnít come through the canoe it doesnít bother me as much. I donít like doing it but what gets me are the rocks I think I should have seen and avoided.
I was in luck the campsite at the east end of Three Island was open. The time was 1638 hours. I donít know when the wind died down today but when I got on Iron Lake there was a light breeze. In my journal I wrote the time is 2024 hours and the lake is almost calm and I just heard a loon. I made the notation I saw the two loons back on Thunder Lake and they never made a sound. I remember seeing the moon in the sky. I had noted it was a quarter moon but it was more like 1/3.
So far I couldnít have asked for better weather. The sky was blue, warm temperatures during the day and cooling off at night.
I decided to spend two nights at this campsite on Three Island and tomorrow I would take a daypack with some food. My plan was to paddle to Lac La Croix to see the pictographs north of Warrior Hill.
I wrote in my journal about today, "Wow! What a day!"
Total Time: 7 hours 27 minutes
Total Miles: 10
Campsite #: 67
DAY 3
I woke up before 0600 hours, but didnít crawl out of the tent until 0610 to 0615 hours. It was a nice morning, a little cool but it warmed right up as soon as the sun peeked over the trees.
Today, my plan was going to go take pictures of the pictographs on Lac La Croix. The wind was calm all night long and this morning the wind started blowing out of the SE and it was starting to pick up.
I grabbed enough food for lunch and my rain gear and headed to Lac La Croix at 0838 hours. I put the remaining food in my other pack and hung it in a tree.
I hugged the shores of Three Island, Four Island and Irving Island. I talked to a couple guys fishing before Bottle Lake. He told me he has been coming to this same area for twenty years and this is the lowest heís seen the lakes. He told me about a pullover near Bottle Lake that heís never had to do before. Well, I got to the area and pulled my canoe across and headed for Bottle Portage. I saw the portage in the end of the little bay. I got closer and it looked like I had two options. The first one was to the left where it was muddy and the second one was to the right where it was muddy. I went left and went as far as I could go. I wasnít too sure about this but I thought maybe there would be solid ground past the muck. I kept my left foot in the canoe and step out with my right foot. Well, that didnít work out as I had hoped. I sunk up to almost to my knee. Good thing my boots were laced up good. I got all of my body parts back into my canoe and pushed the canoe backwards until I could maneuver the canoe to the right. It looked like I was going to have the same result but I had to try. Yep, same result. I now back out further into the bay and made it to the far right near some rocks so I could have some footing. Once I got to the rocks I could see an extension to the portage that was hidden behind some grass.
I made my way across Bottle Portage. I believe itís about 80 rods normally. I still had some concerns about the SE winds on the other side. Bottle Portage comes out into a little bay and of course itís calm. I see waves at a distance but I canít tell how big until I could get closer. I start off in a NE direction and the further out I went the bigger the waves get. I decided to turn around after about ĺ of a mile.
Itís not that I didnít think my canoe could handle those waves but I didnít know if the wind would intensify and it might be some time until I got back to the rest of my gear. I found out that I donít like base camping and then take day trips on big water. Iím more comfortable having all my gear with me and if I have to pull over at any time for any length of time Iím comfortable.
I brought all my stuff back across Bottle portage. On one of the trips across the portage from Lac LaCroix to Bottle Lake I saw a side trail off to my right. I took it thinking it might take me somewhere interesting but all it did was bring me out to Bottle Lake. The best I can guess is that the one portion of the portage can get pretty wet/muddy and this other trail was on higher ground avoiding the lower area.
I had lunch mostly where there would be some water flowing at one end of Bottle Rapids but today it was only a rock field. I paddled the three miles back to my campsite. After paddling on the north side of Three Island back to my site I decided to go south ducking behind a small island to get out of most of the SE wind to the far shore. I wanted to check out the two campsites on the east side of Iron Lake. The most SE campsite has a large sand beach. (Campsite #64) I got out and checked this site. I then paddled over to the NE site. I didnít get out of canoe on this one. There was a large Red Pine that had broken off and it was in the middle of the site. I donít know how much use this site gets but the tree probably just recently broke off. I paddled back to my campsite at 1400 hrs. Wow, at a campsite early. I donít have to put up a tent or nothing. Just cook supper. I did have to put up my rain fly/tarp to get out of the sun. I usually put it up but this would be the only time I put it up this trip.
I would have been much happier to take all my gear this morning and to be on the move, but thatís me.
Around 1600 hours 7 people in 3 aluminum canoes came by looking for a campsite. I told them about the two open ones on the east shore but they were looking for an island site. Less chance of having a bear at the campsite. They told me they had a permit for Quetico and the last I saw of them was rounding the east tip of Three Island heading north. Before they left I told them I was leaving in the morning. They asked me what time and I told them 0830 to 0900 hours.
A couple hours later 4 guys with 2 aluminum canoes pulled into campsite #64 with the sandy beach.
Tomorrow is a paddling day, hopefully!
Total Time: 5 hours 22 minutes
Total miles: approximately 10
Iím still trying to find my flashlight for reading in the tent. (I still donít know that I left it in my vehicle). I did get to read this evening before it got dark.
DAY 4
I started getting my gear ready at 0600 hours. I wanted to get an early start in case or when the wind comes up and to cover as much water as I can. The wind was starting to come and it was out of the SE again. I have to cross some big water today on Crooked Lake. It was another nice morning with blue skies. I was on the water at 0755 hours.
The 139 rod portage at Curtains Falls was less than a mile away. I could hear the sound of the Falls when it was calm out while I was at the east campsite on Three Island. I had to get out and track my canoe up some swift moving water just prior to the actual portage.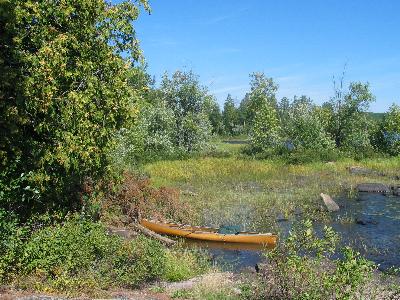 Again, the 139 portage wasnít a big deal since I had done the 200 rod a couple days ago. Itís amazing how to fool the mind into thinking the 139 rod portage is no big deal. I remember on Day 1 that the 140 rod portage between Mudro and Fourtown was a somewhat big deal since it was the first and longest one up to that point. This portage took me 13 minutes on one trip and the second trip took 12 minutes.
I took several pictures at Curtain Falls before getting on my way up Crooked Lake. Crooked Lake is a fairly large lake with many islands. This is definitely a time to be able to read a map and compass. For the most part I would be following shore lines but I will also have to cross open water in spots. Normally, I donít wear a PFD but I do so in big water when there are waves. Today, I would be putting on and taking off my PFD depending on the conditions of the water.
I was going east on Crooked Lake and on the south shore I saw a big eye bolt sticking out of a big rock. Maybe it was left from the logging days or in the past I believe there were a couple resorts on Crooked Lake. I didnít bring my camera out to take a picture because I was in some waves.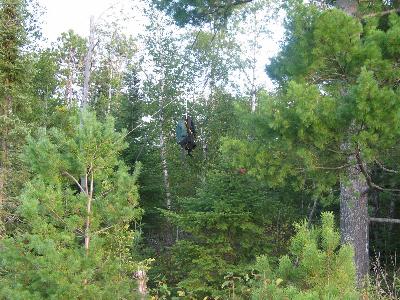 I followed the shore lines, darted behind islands and made my way. I had lunch on a campsite about 6 miles from Curtain Falls. I knew that Friday and Thursday Bays would be coming up and I didnít want to be hungry while dealing with any potential big waves. The only real concern I had was when I had to cross about a quarter mile of open water after rounding a peninsula in section 17 just before the opening of Thursday Bay. Iíve been in bigger waves but when Iím by myself and thereís any type of big waves and there only open water all around me I always have to have respect and can never assume or take things for granted. There is no one around to help me. Once I got in front of the land on the Canadian side I could relax some because at that point I knew if I went over I was pretty close to shore and my canoe and gear would be pushed to shore. I saw the first canoeist in a cove on the east shore about this time as I was crossing Thursday Bay. I continued north through the narrows that go directly north along the border and I lost sight of this canoeist. I couldnít tell if it was a C1 or a C2.
I continued to follow the border and I was now going east when I spotted a solo canoeist using a kayak paddle heading south into an unnamed bay to the east of Thursday Bay.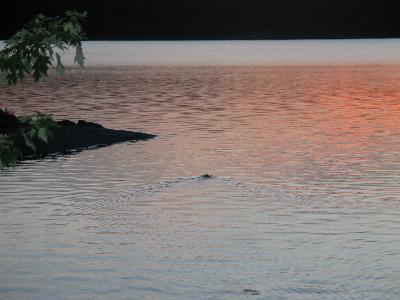 He never saw me. I now started going south between two island that were along the border. I stopped and talked to four guys a little after 1300 hours who ere sitting on a rock at a campsite plotting where they were going to head for the night. They showed me the campsite where they stayed last night which was only about 1 Ĺ miles away in Wednesday Bay. They told me they were taking it easy today.
I didnít know how hard it was going to find a campsite the closer I got to Lower Basswood Falls so I thought I would check out the campsite these guys showed me on a map. I got to Wednesday Bay and I could see both of the campsites free. I decided to take the campsite that is less than a half mile SW of the Table Rock campsite. I arrived at this campsite between 1400 to 1415 hours. I would have gone further if I knew I would find a campsite.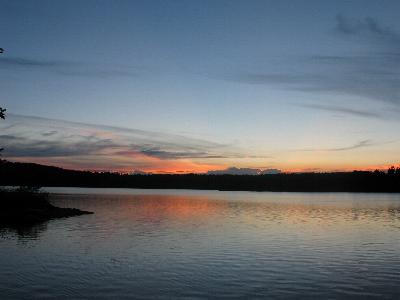 Tomorrow I will check out Table Rock, the pictographs and Lower Basswood Falls before tackling the Horse River.
Yesterday, I figured I was approximately 30 miles from Chainsaw Sisters. I figured it out because I didnít know how busy the week-end was going to be and if I would be able to find a campsite. It would be possible to make my way out tomorrow if I had to but it would really make for a long day.
There were some clouds today but the sun was shining most of the day. It was warm but it would have felt hotter if not for the strong wind. Iíve been putting on my #30 suntan lotion a couple times a day everyday. Even with that my arms and face got red today.
Total time: approximately 6 hours
Total miles: 14
Campsite #:27
DAY 5
I woke up at 0547 hrs and started getting things ready. I was on the water at 0759 hours. This day was a mixed bag. The day started off nice an easy from Wednesday Bay down to the second portage on the Horse River then it was rugged. I put in my journal, "This was another helluva day."
My first stop was at Table Rock where I took some pictures and walked around the area. Next I paddled about 3 Ĺ miles to the pictographs. This is a very nice area to paddle and view the surroundings. I did talk to 4 guys that were fishing but they were camped at the second campsite south of Table Rock. They came in at Mudro Lake on Wednesday but will probably leave early as one of the guys had pink eye. They told me that it took a while to get up the Horse River. They said there were four more additional portages in addition to the scheduled three and many more pull-overs over rocks. They told me the water was low!
I got to the pictographs and talked briefly with a couple from the State of Virginia. The guy has been here before but it was the first time for his lady friend. They told me the water level was very low on the Horse River. They showed me where they camped on the Horse Lake on a map the night before going up the Horse River. I didnít ask him how long it took to do the Horse River but last night they were camped near Lower Basswood Falls.
I took a lot of pictures at the pictographs and at Lower Basswood Falls. Then I looked to the south from the portage toward the Horse River with the low water. I began the Horse River at 1030 hours. Everything was going fine and I had enough water up to the first portage. I took the portage and decided to have lunch at the end of the first portage. I took about a twenty minute lunch and I was on my way.
Things were going pretty smooth up to the second portage. I believe there were one or two rock obstacles. From that point on it was blur. The people were right when they said there were four extra portages. There were places were I could get the canoe over the rocks without taking out my gear. There were several more places I had to take my gear out and walk it a ways further down across the rocks. To me that is a hard, short portage not a pull-over. I would like to describe the Horse River better but I stopped trying to remember what I did and just did what I had to do to get down the river. I got to Horse Lake at 1430 hrs. It took me approximately 3 hours to the Horse River with the low water level not counting my lunch time.
I checked the first two campsite sites on Horse Lake north of the Horse River. They were both taken. The guy at the second campsite saw a canoe come going south so he though maybe one of the campsite further north would be open. I decided to head south to check the two campsites that were on the Horse south of the narrows. I wanted to head south in case I had to continue out today. I checked the first campsite past the narrows. It was way up off the water. It reminded me of having to be a goat, again. Anyways I found the fire grate surrounded by all trees and brush. It was so enclosed that I couldnít see the water. I want to be able to look over the water when I camping so I didnít like this site.
I looked over at the area where the next campsite would be but it didnít appear obvious to me so I didnít go check it out. I took the 90 rod portage from the Horse to Tin Pan Mike Lake. This is a very nice looking lake. It has some high cliffs and rock outcroppings. I immediately saw that the campsite on the east shore was taken. The NW campsite was open and upon a high rock outcrop so I decided to check the SW site first. I decided to make camp at the SW site at 1515 hours. This latrine showed it was campsite #2. No double digit number.
I could see that this site has been use extensively. I also didnít like that it was all dirt surrounding the immediate area of the fire grate. If it would rain it would make for a muddy mess but I was going to take a chance. There was an area further up the hill where there was grass to pitch a tent but it seem so far from the water and the cooking area. I guess if one had a big group or were base camping it would do just fine.
I read some more of the book I brought along after setting up camp. I was pretty tired so when it got dark I went in my tent. I was going to read some more but I still canít find that flashlight. This campsite is on a high rock outcrop point with water going back to small bays on either side. Before heading to my tent I was watching the beavers going back and forth.
Well, at about 2100 hours itís dark outside and Iím in my tent. I hear a loud noise as if something is crashing through the woods behind me. The noise is coming toward my direction. I thought I better get out of my tent and confront the situation to divert its progress toward me. I immediately though it was a bear but Iíve bear hunted before and I know they donít make that much noise. The second thing I thought of was a moose crashing through the woods. What ever I though it was I knew I needed to get out of the tent. I grabbed my other little flash light and tried looking in the direction of the noise but I couldnít see anything. Now the crashing noises seem to be in slow motion as it just kept coming forward. Then I heard the distinct vocal sounds beavers make. What a relief! Then I heard the familiar flap of their tail against the water. The noise I heard was the beaver dragging a tree through the woods.
I was glad that I figured this noise out but it made it hard to hear any other noises. This went on all night long. The noise came about every hour and then there would be silence when they would swim with their prize to wherever they were going and then it would repeat. I got up before 0600 hrs the next morning and watched these silly beavers going back and forth. I guess the ole adage, "Busy as a beaver" is true.
Total time: 7 hours 15 minutes
Total miles: 11
DAY 6
I did get up early and watched those silly beavers and I took some pictures of the sky before the sun came up.
I seemed to be taking my time getting things ready and I still got on the water at 0818 hours. I only have about three miles and three portages before Chainsaw Sisters parking lot.
I saw two canoes go by my campsite as I was preparing my canoe. They were just starting the portage to Sandpit Lake when I was a short distance away from the portage. I wouldnít get a chance to speak to then because they did a single portage. This portage is 160 rods but is flat. The first portion goes over a low area and this part of the trail is a board walkway. What was discussing about this beautiful lake was that someone had sprayed some graffiti with red paint on the rocks at the portage of Tin Pan Mike.
I was on my second trip across the portage with my canoe when I saw a couple with a dog going toward Tin Pan Man. It appeared they were just in for the day to do some fishing.
I saw a large group at the campsite on Sandpit Lake and a big loon on the lake. I got to the portage between Sandpit and Mudro in no time. This portage seems to go up in two steep sections and that on the backside of the portage it only drops half as much. It kind of reminded me of a 185 rod portage between Muskeg and Kiskadinna that I did in 1998. HereĎs what I put in my journal about the Muskeg to Kiskadinna portage. "This 185 rod portage between Muskeg & Kiskadinna is one tough portage. I have to say this is the toughest portage for me this far. It went up & up & up & up in stages Ėbut you definitely knew you were going up. It was like stairs in some places." This short 90 rod briefly reminded me of the longer one but this one really wasnít that bad. Easy to say when itís pretty much the last portage and I didnít have anymore tough ones to do. I was now on Mudro Lake for the final strokes. I knew there were about three points to take out. I knew not to take to one furthest from Chainsaw Sisters as I knew if I couldnít paddle that I would be able to track the canoe up stream to the second point. And that is exactly what I did. Why portage any further than you have to!
On my first trip across the portage a couple guys were just getting ready to head out so they had some questions. They told me they were from North Dakota and they were headed to Tin Pan Mike to fish. The one guy told me he might take his buddy up the Horse River to go and see the pictographs. You can probably guess what I told him. Yep, I told him the water is really low on the Horse! I filled them on my experience on the Horse so I donít know if they changed their minds or have to check it out themselves.
I made sure my Suburban started before this group of guys left for their trip.
I made my second trip across the portage and my trip was done at 1042 hrs.
I was back in Ely about lunch time so I had to stop at Dairy Queen for a double hamburger, fries and a pop. He called it the full meal deal. Just about the only time I go to Dairy Queen to eat is after a canoe trip. Oh, I also got a Butterfinger Blizzard.
CONCLUSION
Overall, this was a great trip. I couldnít have asked for better weather. I enjoy this time of the year when it warms up during the day and it cools off at night. There was no rain. There were mostly blue skies the entire time.
I didnít see any larger animals but the animals I did see spiced up the tripÖthose silly beavers!
This was the first trip where I found a suitable tree at every campsite to hang my food pack.
There were several times during the trip that it was absolutely quiet, no wind, and no sounds of any kind. Contrast that with a spring or early summer trip were the birds would be very vocal.
I did have most of my gear from previous trips but I did have to buy a few more things.
The biggest change was that I bought a newer 25í wide x full length x 1 Ĺ " Therm-a-Rest Prolite 4 sleeping pad to replace my ĺ length x ĺí Therm-a-Rest pad. This sure made sleeping comfortable.
I replaced my air pillow with one of the new Therm-a-Rest pillows that can be compressed. It was OK but, I may try something different next time. Iíve had neck problems in the past so at home I sleep on the Tempur-pedic pillow. I may cut one of those in half to take next time.
I bought a Nesco American Harvest Gardenmaster dehydrator. I only used it to dry venison burger so I could have some meat/protein with every evening meal.
I took too much food and too much fuel for this 6 day trip. I actually could have been gone for two weeks.
There you go. I hope you like my narrative. If you have any comments or questions I can be reached at

. I know this type of trip is not for everyone and I know one of these days I wonít be able to continue the pace, but this is what I enjoy for now.
What will be my next trip? I have a couple in mind. I would like to do the first 500 miles of the Mississippi River from the headwaters to Twin Cities. This would be paddling the canoe most of the time. I love to paddle long distances.
The other trip would be Hunters Island in Quetico Provincial Park. Iíve done some portions of the route in the past. This would be about a 14 day trip.
Iíll actually will be doing both trips next year.
Well, I will be doing some repairs on the canoe before the next trip.
Chuck Ryan

copyright 2006 Chuck Ryan http://www.canoestories.com/ryan/bigwater.htm