French River Canoe Trip

The Story of a Canoe Trip Through Ontario's Restoule and French Rivers
By Norm Hooper


September,

2003

The emblem of the Friends of the French River
and its significant meaning
The Arrowhead represents trade in flint and ocher.
The stretched Beaver Pelt represents the fur trade.
The Fish image represents recreation.
A Canoe represents the fur trade route.
A tree, rock, and water reflections represent the beautiful and rugged scenery of the region.
Introduction
For the past five years, our group consisting of Norm Rail, Wayne Morrison, John Nikita and Norm Hooper discussed the challenge of tripping a river with rapids, an alternative to lake paddling. The French River, a well- known and respected Canadian Heritage river was researched and found to meet these objectives.
The French River is located in eastern Ontario, south of North Bay and Sudbury, and its 110 km corridor drains the region of the Canadian Shield between Lake Nipissing in the east and Georgian Bay in the west. The river flows through a landscape that remains largely as it was when the first Europeans explored it over 300 years ago. The riverís valley contains nationally significant indigenous archaeological and historical resources and national features representative of the central Ontario section of the Canadian Shield.
The Aboriginal inhabitants, long before the arrival of Europeans, discovered the usefulness of the French River as an efficient trade route many centuries ago. They had invented and developed the highly adaptable birchbark canoe and used this superb craft for countless years to travel the continentís waterways, including the French River.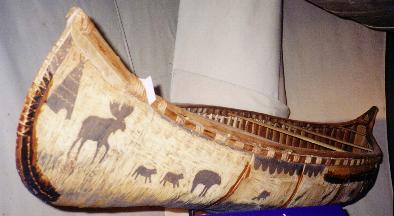 Birch Bark canoe built by Bill & Mary Commanda Ė located
in the Canadian Canoe Museum in Peterborough, Ontario
During the 18th and 19 century, the French River became a major gateway to a maze of water routes that stretched to Lakes Huron and Superior and beyond, the fame of its canoemen are still widely known, such as, Brule, Champlain, MacKenzie, Radisson and many others. The canoe achieved its penultimate form in the Montreal and North canoes, which bore the loads of explorers and voyageurs, who in their pursuit of the fur trade and other commerce, drew the map of Canada and founded their way to the Pacific and Artic Oceans. The mighty Montreal canoes, 30-40 feet in length, carried a crew of 14 and were capable of holding loads of almost 3 tons. These canots de maitres were used on large bodies of water and rivers, such as the Great Lakes, St. Lawrence River, Ottawa and the French Rivers, among others. At the Grand Portage on the western shore of Lake Superior, their cargo of supplies bound for the interior posts was exchanged for furs brought in smaller North canoes by brigades from the interior of Canada.
Since the decline of the fur trading and logging industries in the early twentieth century, the French River system has become purely recreational.
Copyright by Norm Hooper, December, 2003 http://canoestories.com/french_river